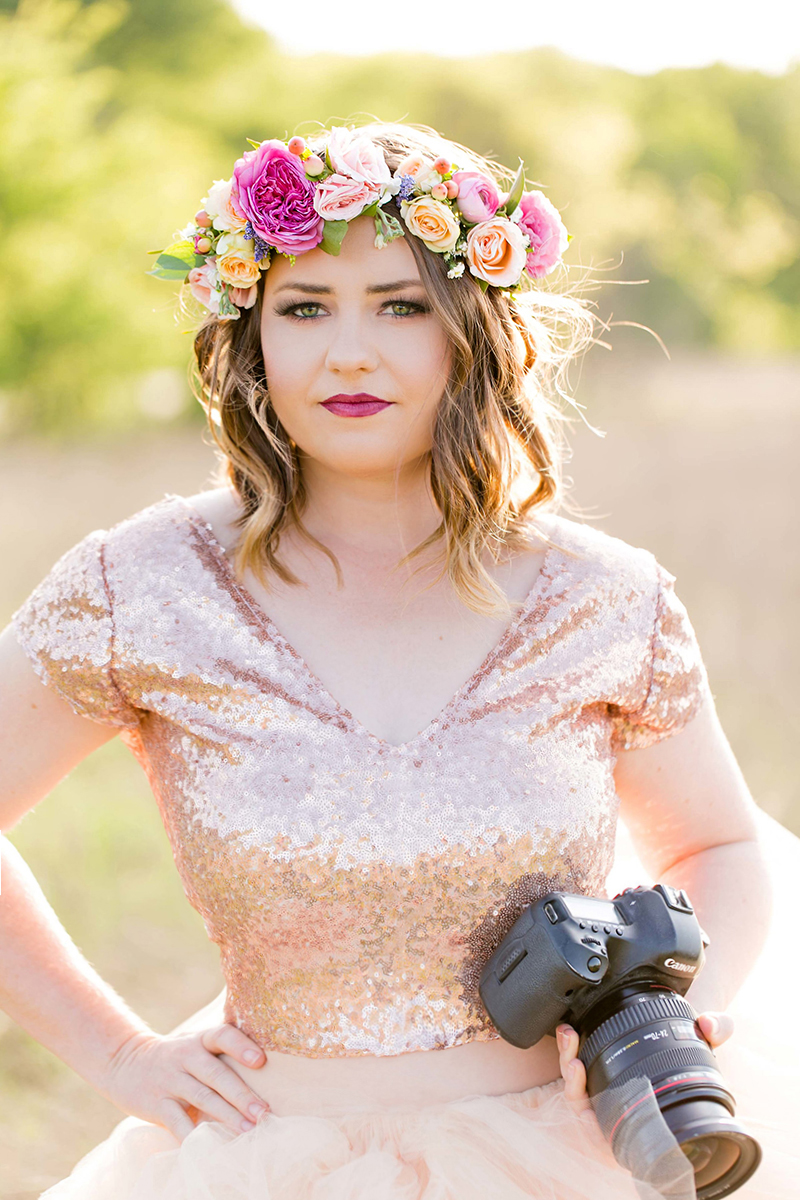 I was born and raised deep down south in Florida where catfish is a dinner staple and the girls and the oranges are just a little sweeter!
I decided that I wanted to explore more of the countryside and eventually ended up in a quaint little town I call "home sweet home" in Celina, Texas (20 min North of Frisco).
I met my wonderful husband Shea in 2010 who is our second wedding photographer. We share our lives with two very grateful step kids, our handsome Pug Smash, our energetic Frenchie Fergie and our calm and collected Pug Ludo. 
My camera stole my heart 17+ years ago. I have watched portrait and wedding photography grow as an industry at a very young age and I followed through with my heart to become a Professional Photographer. 
Some photographers focus on one style of photography, but I focus on the entire life cycle. It is rewarding to follow my clients through all stages of their life. I follow them from the proposal, engagement, wedding day, maternity, newborn and all stages of their growing family. Being in my late 30's, I'm excited and grateful to see my babies grow into young men and woman who are now graduating from High School!
We are a full service photography studio and we will guide you through the entire process from wardrobe choices, the perfect location, scheduling hair and make-up with our in house artist and helping you pick out the perfect wall art for your home.
I shoot all over the DFW area and also travel to exciting destinations to capture those memories. I would love to document your lifestyle.
Hair + Make-up: Lauren Lewis with Southern Glam
What to expect with Jessica Cernat Photography and behind the scenes
Portrait Investment and View Calendar
We also offer Children's Birthday Party Photography at $149 per hour with a minimum of 2 hours of coverage.
Portrait Investment
($149 Creative Fee Deposit Non-Refundable) $350 Minimum print purchase
Step 1: Secure your date and time with your $149 Creative Fee Deposit for Jessica.
Step 2: Jessica will help you select the perfect location, wardrobe suggestions and will have her in house hair and make-up artist contact you.
Step 3: Enjoy your 1-2 hour portrait session while she works her magic!
Step 4: The BEST part is scheduling an in-person meeting in your home to view your pictures within 2 weeks. Your gallery will contain 30-40 "best of the best" pictures from your session. This is the time where you will place your order so bring as many people as you like.
Print order purchase has a minimum of $350.
$149 Creative Fee Deposit + $350 min. print order = $499 min. cost to book Jessica Cernat Photography
Your wall art will arrive in 4-6 weeks.
Check Availability and Book Today!
Custom Wall Art
In-person ordering appointment required Minimum $350 purchase
GIFT PRINTS: (8×10 and smaller)
8 Wallets – $19
5 X 7 – $29
8 X 10 – $49
WALL ART PRINTS: (11×14 and larger)
11 X 14 – $189
16 X 24 – $289
20 X 24 – $389
30 X 40 – $489
WRAPPED CANVAS *Most Popular
16 x 20 – $349
20 X 24 – $449
30 X 40 – $549
CHRISTMAS CARDS
$5.00 per card- contact for samples.
CUSTOM Organic Bloom Framing also available
$189 and up for custom framing
Jessica Cernat Photography is required by the state to add in 8.25% sales tax to the final total
Mini-Sessions
**Limited Time**
20 Minute Portrait Session
1 outfit dressed and ready
(4) Gift Print Sizes to choose from (8×10, 5×7 or 8 wallets)
Additional print sizes available for purchase at $19 and up
Digital Negatives are available for purchase for $399
***These sessions are usually back to back so please allow enough time to get ready, prepare for traffic, be familiar with the location and be sure to have everyone dressed and ready. Thank you for understanding.***
If you would like a longer portrait session time with Jessica, please inquire about our full sessions
Availability and Booking
Smash Cake Session
15-20 minute portrait session
2 outfit changes- 1 regular outfit and birthday outfit
Cake stand is provided
Includes 10 digital Images
1- 8×10 Keepsake print to display
High School Seniors
Tier 1
1-2 hours: $398
10 Digitals
Gift size keepsake portrait
Tier 2:
2-3 hours: $498
20 Digitals
Gift size keepsake portrait
Tier 3:
3-4 hours: $598
30 Digitals
Gift size keepsake portrait
Jan
Feb
Mar
Apr
May
Jun
Jul
Aug
Sep
Oct
Nov
Dec
Seasonal Mini-Sessions - Availability
Seasonal Mini-Session location will be emailed to you upon booking. Mini Sessions include a 20 minute session, 4 gift size prints of your choice. Gift print sizes are an 8x10, 5x7 or a set of (8) wallets. Additional wall portrait sizes are available for an additional cost. Mini Sessions are $285. Digitals are available for purchase for $399.
* SOLD OUT* NOVEMBER 17th- MEET THE GRINCH AND CINDY LOU WHO MINI SESSION! This session will be located inside the studio in Celina. We will have an epic WHOVILLE set up!
DECEMBER 1st- Meet Santa at Maryland Farms on the blue Chevy truck decked out for the holidays!
**Christmas Cards are available for purchase
GRINCH MINI-SESSIONS!!!

There are no upcoming events
SANTA MINI-SESSIONS!!!

There are no upcoming events
BALANCE DUE PAYMENTS
If you're paying a balance due, type in the amount below and click the Pay Now button.
Working with Jessica and her husband Shea (2nd photographer) was a truly amazing experience. The first time she photographed my daughter was for her bridal shots. She has several spots to pick from and it was hard to decide where to go. Once we got there, Jessica just took control but made it fun. She is very meticulous and has an eye for just the right shot. The wedding was no different. She had a vision of exactly how she wanted to capture the beautiful couple and she stayed pretty true to her timeline. The sneak peek that we have seen so far has made me cry each time I've watched it.
Joy Smith
Jessica captured our family perfectly. She was great with our child and made her feel so comfortable. I highly recommend using her for your photography needs. She was by far the best experience we have had when it comes to family pictures.

Emily Godawski
When I was planning my wedding, the most important vendor selection to me was the Photographer. I could overlook anything else going wrong, but if I didn't have beautiful pictures to commemorate the occasion I would have been devastated. After interviewing several photographers I chose Jessica and I don't have a single regret. She was so sweet, professional, and captured the entire day perfectly! When I got the pictures back (just one month later!!), I felt like I was reliving the whole experience all over again. There were almost 1,000 pictures and it was extremely hard to narrow down which ones I wanted to print, they were all so good!! All my friends and family kept raving about how fantastic my photographer was. I highly recommend Jessica as a wedding photographer! She's professional, reasonably priced, and will capture every moment of your special day in such depth and with such perfection that you can relive it over and over.

Christi Young
We have used Jessica for our family photos for the past several years. Each time, she produces new looks so that our photos look unique and original from year to year. She is a pro working with children- making them smile and capturing their personalities. My entire home and office are filled with Jessica's photos of my family, and I love looking at her beautiful work all day. I cannot recommend her enough!

Andrea Mooney
I currently use the Canon 5D Mark iii and for a backup, the Canon 5D Mark ii. I also use "L" (professional grade) lenses. You can checkout my equipment here "What's in my bag" post.
When I put my magic touch on your photos, it takes about 4 to 6 weeks for wedding and 1 to 2 weeks for portrait sessions. We will schedule an in-person meeting to pick out your wall art.
I fell in love with my camera in 1998 and I haven't looked back since.
For weddings, you will first need to contact me to verify I have your wedding day available. For portraits, you can go to the
calendar
and pick your date and time and book right now! Do not wait too long. Most weddings are booked a year or more in advance. After we verify the date is available, you will have to make your deposit before that date is officially yours. You will also need to complete a contract (weddings). I like to meet my clients in person to get these details done. Your remaining balance is due 1 month before your wedding date. Be aware that verbal verification that I have your date available does not guarantee you are reserved for that day. ONLY your deposit will guarantee your wedding date or portrait session.
You can mail your contract to: Jessica Scott 1400 Clayton Ln. Celina, Texas 75009
You can mail me a check payable to Jessica Cernat Photography or click the payment link and make a payment via credit card.
Jessica, personally evaulates every photograph. After sorting each one, Jessica picks the best images to edit for your collection or album. Detailed editing is only performed on portraits. 
Any special request for editing by the client is additional. I charge $100 per hour to make these special edit request. Some request are just not possible.
No. Due to copyright laws, photos taken by another photographer cannot be edited by a different photographer.
Each day is considered a special event. Based on the amount of days covered and the amount of hours covered, Jessica will send you a custom price guide.
Yes, of course! Fill out the contact form and tell me all about it!
Yes!! I love gender reveals! Fill out the contact form and tell me all about it!